Features: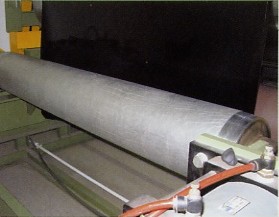 With 30 years industrial roll design and manufacturing experience, Na Ya Plastics Co. has developed the latest Alloy Steel Rolls to improve the embossing roll performance.
The innovative Alloy Steel Rolls, cast in special metal powder, integrate the advantages of silicon rolls and metal rolls:
Supreme imitation and two tone effect, suitable for casting paper, cloth pattern, leather pattern and other embossing products.

Extremely durable, over 300,000 yards.

Virtually endless, reducing production loss.

Temperature resistant, TG up to 300℃, suitable for different types of heating including kerosene, steam, and electric heater.

Anti-chemical and anti-solvent, maintenance friendly.

Excellent radiation, roll surface temperature difference within 2℃.
Application:
Suitable for calender machine and embossing machine.

Suitable for PVC leather, PU leather, and paper embossing.

Extensive use in furniture, leather-bag, shoes, stationery industries.
Alloy Steel Rolls Features:
Rolls features to contrast O: Excellent

: Good X: Bad
Item

Steel roll

Silicon roll

Nikel roll

E/P roll

Ally roll

Circle precision

O

O

X

O

O

Pattern smooth

O

O

X

O

O

Likeness

X

O

O

O

Anti-solvent

O

X

O

O

Two tone efficient

X

O

O

O

O

Product speed

O

X

O

Kalosene, steam

O

X

X

X

O

Temp difference

3℃

15

℃

10

℃

9

℃

2

℃

Pattern deep persistence

O

X

O

O

O

Life(Y)

300,000

1-50,000

200,000

200,00

300,000

Average cost usd/y

---

0.088

0.03

0.041

0.029
Application
| | | | | |
| --- | --- | --- | --- | --- |
| Item | Calender product | Casting product | Extruder product | Remark |
| Sheet | V | | | |
| Leather | V | V | | |
| PU | | V | | |
| PP | | | V | |
Application to contrast

O: Excellent

: Good X: Bad
| | | | | |
| --- | --- | --- | --- | --- |
| Item | Calender machine | Foaming machine | Embossing machine | Laminating machine |
| Sheet roll | O | O | O | O |
| Silicon roll | X | X | O | O |
| Nikel roll | X | | O | O |
| E/P roll | X | | O | O |
| Alloy roll | O | O | O | O |
Quality to contrast
O: Excellent X: Bad
| | | | |
| --- | --- | --- | --- |
| Item | Korea silicon or E/P roll | Others silicon | NAN YA rolls |
| Enderless | X | X | O |
| Pattern design smooth | X | X | O |